Dr. Kanika Singh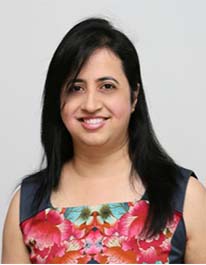 Dr. Kanika Singh is a Senior Project Manager in American Bureau of Shipping. She handled several marine and offshore projects.
Dr.Singh is the Electrical and Instrumentation working group leader for Unified bulk Offshore Standardization project (UBJIP) for Offshore Standardization project. The significance and benefit criteria for standardization focuses on cost, weight, construction efficiency, compatibility, safety requirements and operational maintenance.
Dr. Singh obtained her Ph.D in Engineering from Pusan National University, South Korea, the Masters in Engineering in Electrical & Instrumentation from Indian Institute of Technology (IIT), Delhi, India and University of Karlsruhe, Germany (under DAAD Fellowship program). She has over ten years of experience and have travelled US, Canada, Europe and Asia for work. Dr. Singh is the recipient of Brain Korea (BK21) Award (2008), Korean Research Fellowship (KRF) award (2005 to 2008), IEEE Outstanding Young Engineer Award (2005-2006), DAAD (Deutscher Akademischer Austauschdienst) German government fellowship award (2001 to 2002), Outstanding research paper award at 7th Cross Straits Symposium on Material Energy and Environmental Sciences at Kyushu University, Japan (2005) and POSTECH, Korea (2006), UNESCO CCAP contribution award (2006), Visiting International Scholar KU-Leuven, Belgium(1999) and Best paper Awardee from Region10, at IEEE Int. Conf. at Atlanta USA, (1998). She is a Senior Member of IEEE, USA (highest grade of IEEE members for their distinguished contribution) and IEEE Women in Engineering. She served as Vice Chair. She was selected and was recipient of Student sponsorship to attend Second IEEE-EMBS International Summer School and Symposium on Medical Devices and Biosensors (ISSS-MDBS) with 45 attendees at the Chinese University of Hong Kong, 26 June– 2 July 2004. Dr. Singh has more than 42 research publications and over six invited talks. She has taught as Asst. Professor and guided research to four scholars who have been awarded Master. She was one of the selected candidates from 55 countries for International Scientific and Instrument Technology Center (ITRC) workshop, Taiwan (2013). She was invited speaker by International Oil and Gas Producers for IOGP/IEC Electrical subcommittee (comprising of major oil & gas industry experts), London (2017).She has been selected for nomination as the Electrical expert by the National committee of Korea (KATS)for IEC/TC18 and will review the revision of IEC61892 Electrical Installations for ships, mobile and fixed offshore units.
She was awarded with best paper award by IEEE, IEC and KATS at IEC General Meeting 2018 at Bexco, Busan. She was presenter at OTC (Offshore Technology Conference 2019), in Houston 6-9May, 2019.