Dr. Saurav Karmakar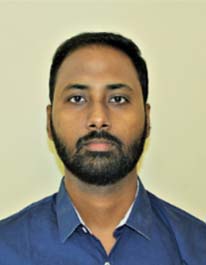 Dr. Saurav Karmakar is an eminent researcher and leader in data analytics and engineering. He leading the company operation and think tank for GreyKarma Technologies, which works on advanced platform creation and deployment for user interaction and grasp user behavior cognition to produce intelligent platform for interaction. He is also in the advisory and executive board for few online analytics based company in India and abroad. He is acting President, CEO and Chief of R&D in this company.
Along with this he is co-partnering with companies like WorldsBiggestReviews, Predictly and System On Silicon. Some of his involvements are in depth providing a market differentiator analytics product and somewhere he is part of the board and providing consulting guidance and mentor-ship.
Last year Dr. Karmakar contributed in prestigious EU initiative OpenMinTeD on creating an infrastructure that fosters and facilitates the use of text mining technologies in the scientific publications world by traveling in France and Greece.
Previously he finished his PhD in the field of Computer Science from Georgia State University, Atlanta, Georgia, USA. He also bagged one MS in Computer Science and another in Mathematics and Statistics earlier from the same university. Right after graduate school he joined Nashville based Digital Reasoning as a Scientist where he worked extensively on NLP, Machine Learning, Big Data and Graph Theoretical problems. With time he rose up to leading scientist and moved to Boeing's Seattle operation to take over a Senior Data Science Architect for their aircraft's onboard analytics data for fault recovery and performance tuning. Later he moved to Samsung R&D India where he was leading the team of researchers and engineers for their futuristic heterogeneous data platform and advanced analytics wings for IOT enabled environment. Afterwards Saurav joined a London HQ company Media iQ as the Head and Director of R&D for their marketing analytics and data science and engineering practice in their Bangalore facility. During his doctoral and further work he has published numerous IEEE, ACM and AIS organized conference research papers and few journal papers. His research interest and work lied in the in many fields and text mining, natural language processing, Entity recommendation systems, information retrieval, data visualization, data mining, machine learning, big data, unstructured data assimilation, augmented intelligence, social network behavior cognition, sensor network intelligence are the few to mention.
Dr. Saurav Karmakar had a keen passion on leadership, teaching and research throughout his career. During his doctoral academic years he was serving chair / president of six organizations at Georgia State and he grabbed Best Service award as well as infamous Royal Flame leaders of the year award in 2011. Under his leadership the ACM chapter rose up to one of the top in one of the six categories all over the world and came to highlight and many news coverage. Alongside Dr. Karmakar has received best teaching and best research grant award from Georgia State University and many mentions to the university media and many selected and reputed fellowships for research during those years. His leadership on research oriented organizations continued for all along as he started serving for WI / IAT series of conferences as well as ICDM, WICT, ISDA etc since 2011 and its continuing till date. Last year he is serving in the executive chair committee for Web Intelligence (WI 2018), taking place in Santiago, Chile in December 2018, he participated in the technical chair track of MIKE 2018 in Romania as well MIKE 2017 in India; he was also in the chair track for CICBA 2018 conference in Kalyani, West Bengal, India as well as ICDM 2017 in New Orleans, LA, USA. He also happens to serve into the program committee and editorial board of many research conferences and articles till date. Dr. Karmakar is an avid speaker and has provided talk in many workshops, conferences and invited talk sessions in numerous technical and non technical motivational issues.