Prof. Anirudh Pradhan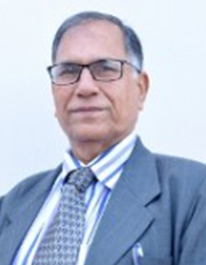 Anirudh Pradhan is a Professor in the Department of Mathematics, Institute of Applied Sciences and Humanities, and Dean (Research & Development) at GLA University, India. He completed his Ph.D. in 1978 from Gorakhpur University. Title of his Ph.D. thesis was "On Wave Solutions of the field equations of general relativity and unified field theories in generalized Peres-Space Time". His research interests include Classical Gravity and Cosmology, Dark Energy, Modified Gravity, and Radiation Physics. He has well over 40 years of teaching and research experience. He has guided more than 25 students for their doctoral work. He has published 05 books which are widely used as text books. He has visited 12 universities and institutes abroad to deliver lectures. He has academic association with 3 Indian Research Institutes. He has been awarded Dr. Abdul Kalam Gold Medal on the occasion of 38th National Unity Conference on Individual Achievements & National Development on 15th October 2016 at Bangalore by Global Economic Progress and Research Association. Recently, he has been awarded Bharat Ratna Rajiv Gandhi Gold Medal Award for his individual achievements and national development on 20th August, 2017. He is Life-Member of The Indian Science Congress Association, Indian Association for General Relativity and Gravitation, Purvanchel Academy of Sciences, and Rajasthan Academy of Physical Sciences, India. He has participated in twenty-two (22) international conferences for delivering invited talks and in forty-nine (49) national conferences in India for presenting research papers. He has research collaborations with foreign scientists in various universities and research institutions. He has published 230 papers with 4480 citations. His h-index is 40 and i10-index is 113.
Dr. Pradhan has effective communication, presentation and teaching skills. He is proactive in solving problems. He understands national, international and cross-cultural sensitivities.